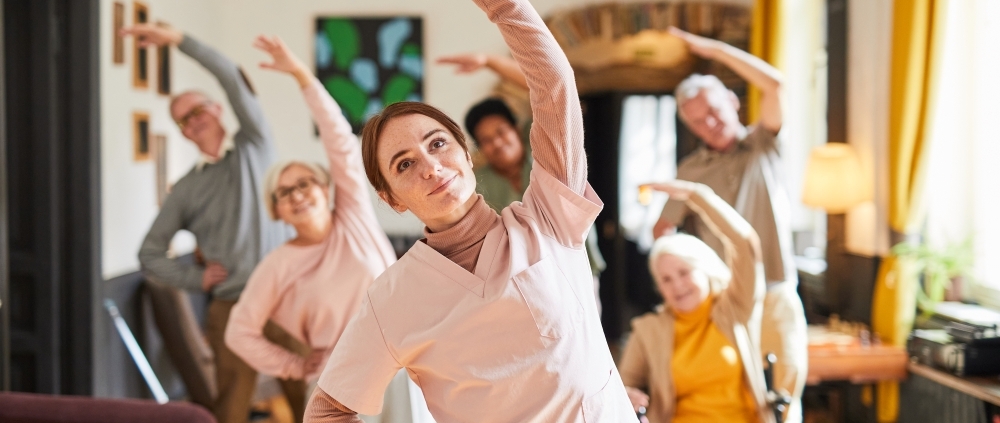 Century Linen is a leading provider of comprehensive solutions that cater to the unique needs of long-term care centers. With a commitment to delivering exceptional customer service and extending the familiar comforts of the home to your facility, Century features a dynamic range of services that enhance the functionality, safety, and cleanliness of long-term care facilities. These services include floor mops, mats, facility services, medical apparel, on-site linen and laundry management, and much more! 
Floor Mops and Mats
Century Linen's extensive selection of floor mops and mats meets the diverse needs of long-term care centers. High-quality mops are essential for maintaining a clean and hygienic environment for residents, staff, and visitors. 
We offer a variety of mop types and sizes to cater to different cleaning requirements. In addition, Century Linen's durable floor mats minimize slipping hazards, protecting the safety and well-being of all facility occupants.
Facility Services
Century Linen recognizes the importance of a great first impression and the role maintaining a safe and functional environment plays in it. Our facility services include restroom supplies, air fresheners, and janitorial products. With Century Linen in your corner, rest assured your long-term care center is well-stocked with essential supplies that prioritize employee and customer health and safety. 
Medical Apparel
Century Linen sports a comprehensive range of medical apparel, from lab coats to scrubs, designed to meet the needs of healthcare professionals in long-term care centers. By providing comfortable, durable, and functional garments, Century Linen supports staff members by outfitting them in protective, durable, comfortable uniforms that empower them to deliver exceptional care for those who matter most.  
On-Site Linen and Laundry Management 
We understand that managing linen and laundry in a long-term care center is a complex and time-consuming process. To alleviate this burden, we boast industry-leading on-site linen and laundry management services. This ensures clean, fresh, and well-maintained linens are always available for use. 
Remove obstacles in the way of upholding strict hygienic standards. Allow your long-term care center staff to focus on their primary responsibility – providing quality care to residents.
Call Century Linen Today!
Century Linen is a trusted partner for long-term care centers seeking reliable and high-quality solutions to support their operations. By offering a wide range of world-class services, we commit to helping care centers maintain a clean, safe, and comfortable environment for residents and staff. Contact us at (800) 721-7648, or email us to learn more about our products and services.